Miranda Thompson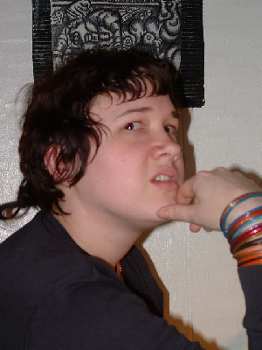 Miranda used to have dreadlocks (before I knew her), and she still has two. She's a vegetarian, too! Legit! Legit!
Miranda is the subletter that Christina arranged to have come in and take over for her. She's new to the city, but she's found her place I think in North Brooklyn: very legitimately indy/punk/riotgrrl. She lived in Portland for a while where she knew some of the Chunk 666 kids (who I've encounteted in my misadventures at Reed College with Luke) and she hails originally from Mankato Minnesota, the punkest place in the northern plains.
Miranda's favorite web site is apparenly makeoutclub.com, where all the rocker kids find eachother.
She's a funny girl, easy to get along with. A few spins around the sun older than myself and Frank, she came here following a dog-walking job, which fell though. Now she has another, but it's giving her blisters because her shoes need repair. She wants to start a band (I heard her sing at hipster karioke, and he's really quite good) and she recently had a friend bring over an old-school casio keyboard which is endless amounts of fun.
Best of all she gets honest-to-god zines from around the country, which I like to read while I'm in the can.
Sometimes I get the sense that Miranda is waiting for something to happen, that she's tired with all the bullshit that keeps coming up but doesn't know what to do about it all. I feel for her, but I don't know her well enough to know if/how I can help. We argue sometimes about stupid things, like whether or not most people are "acting" in daily life and if there are any real "hippies" left in the world. It's strange, because every time I think she's just being jaded, there's a ray of real emotion there telling me that's not it.